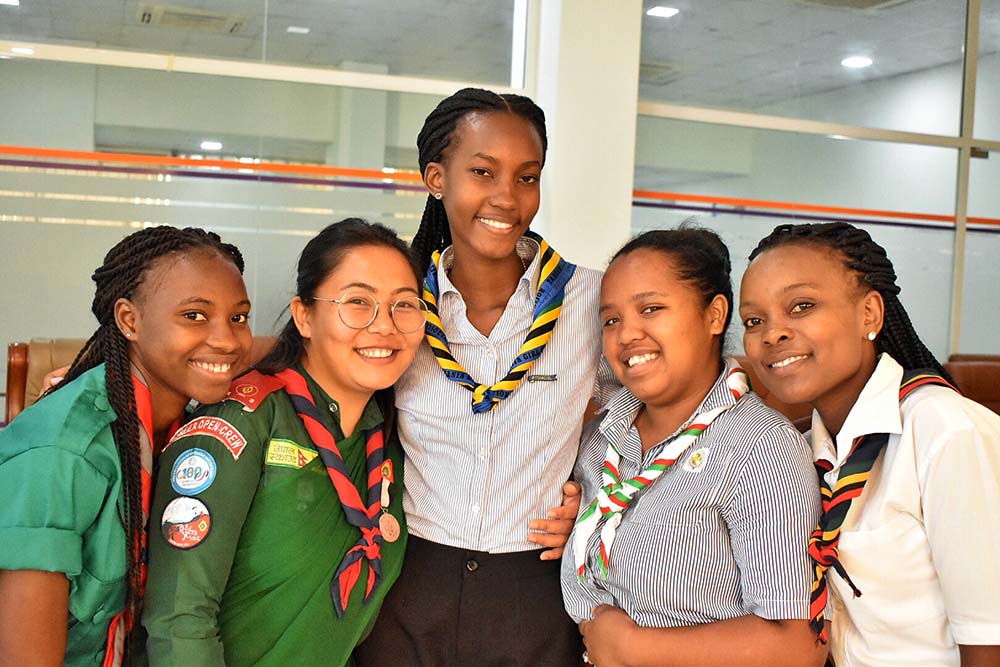 The YESS Girls' Movement, dubbed the "trip of a lifetime," allows young women aged 18 to 25 to go to and work in a new 'host' country for six months. The exchange program enables young girls to develop their full potential as responsible citizens, where they grow and develop their leadership skills and embrace cultural diversity, this experience provide them with opportunities to grow, lead and take action.
The exchange programme runs for nine months in total and during their stay in another country, the young women are challenged to undertake six core initiatives.
The YES! Girls Can Campaign: campaigning on issues affecting girls and demonstrating the positive impact they can have on the lives of others
The Green Tech Generation Campaign:

conducting activities to protect and restore the environment

Welcome to My World:

visiting the unreached, under-reached and hard-to-reach areas to recruit girls and young women into Girl Guiding

Friends of Guiding:

empowering prominent men and women to support Guiding, and to speak out and take action on issues affecting girls and young women

The Good Turn Community Projects:

implementing sustainable community project in their host country every year

Red Pride:

challenging period stigma and inspiring girls and young women to be proud to bleed
On their return from the exchange, all participants are challenged to undertake a 'Back to my Roots campaign' where they carry out at least one of the six core initiatives in their home communities, former schools or any place they deem to be their roots. They also share their learnings with both the leadership of their home Association (Board members and staff); and other young women of their Association.
Through our YESS Girls Programme, we aspire to give girls the chance to develop their leadership skills, and have the confidence and self-awareness they need to pursue their dreams and be this voice of change.
"The YESS Girls Programme has given us a new perspective on working together with young women and of different cultures. We have realised there is a need to give the girls we work with leadership roles in the organisation as they will be able to reach out to more girls and make Guiding more fun at the same time."  Mary, Chief Commissioner, Malawi Girl Guides
YESS ALUMNAE BACK TO MY ROOT CAMPAIGN
Fauster Alphonce, Tanzania to Uganda 2020
Living in a society where charcoal dust is thrown everywhere tends to make her environment dirty, Fauster Alphonce YESS Alumnae who went from Tanzania to Uganda in 2020 came up with a plan of turning charcoal dust into an opportunity and trained girls, women, and Men from her society on how to make charcoal briquettes by using charcoal dust and clay soil as her back to my root campaign named "The Voice of Environment".
The Campaign Mainly aimed to keep the environment that surrounds her society clean since charcoal briquettes contribute to the protection of the environment, but also empower women from her root economically. 
Women shall easily access charcoal briquettes as an affordable and reliable cooking item since many hardly prepare more than one meal a day due to high and increasing prices of paraffin and gas and this will resort to the making of briquettes dry pellets fuel as an income saving and business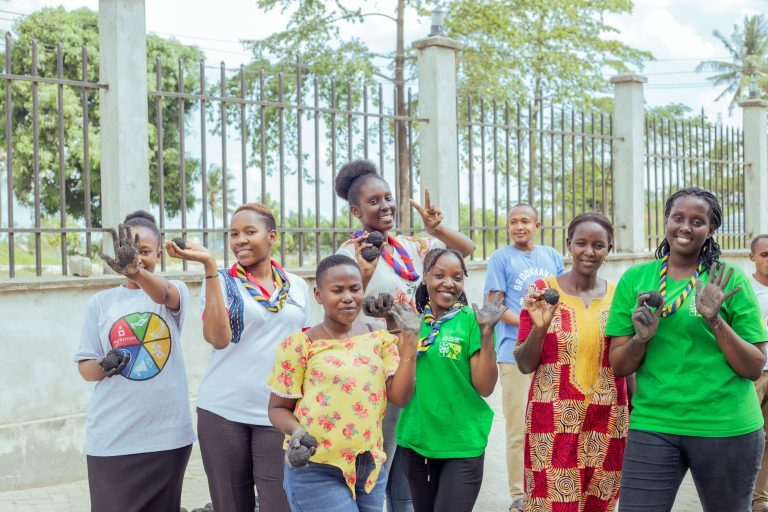 Regina Nicholaus, Tanzania to Rwanda 2019
A study has found more than half of girls miss school at least once each month because of menstruation. less schooling puts them at risk of early marriage, domestic abuse, and increased health problems and locks them in the vicious cycle of poverty  "By raising awareness and improving access to affordable, good-quality reusable sanitary pads for girls in school and community, helps the girls and teenagers get the education they need. Regina Nicholaus a YESS Alumnae 2019 who went to Rwanda for her exchange, successfully trained primary and secondary school girls from Kilimanjaro Region, Moshi District on Menstrual Hygiene Management by using Rosie's World curriculum and how to make reusable pads as her Back to my root campaign named "Tabasamu Dada" meaning Smile Sister
The training aimed at skilling school-going girls in adopting the use of Re-usable sanitary pads using locally available materials as a way of enhancing girl-child education as well as promoting the retention and participation of the girl child at school.  also aimed at creating awareness on menstrual hygiene since dealing with such a challenge requires one to have accurate and adequate information.
"In most of our communities, menstruation is considered more of a private matter. Sometimes, Menstruation is seen as taboo by traditionalists yet it is a real-life situation affecting girls and women on a monthly basis," said Regina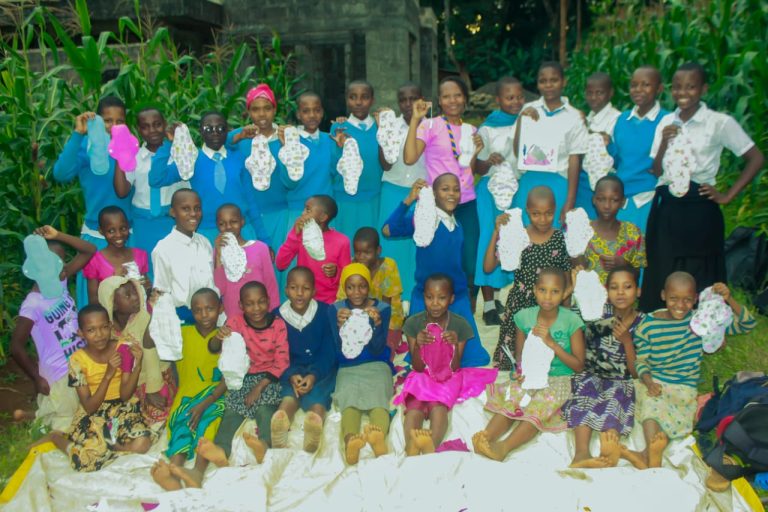 The girls have successfully learned how to make reusable sanitary pads. In addition to this, they have also been enlightened on the kind of materials they ought to use to make a smart, soft, and comfortable re-usable pad
Jasmin Mkoka, Tanzania to Zambia 2020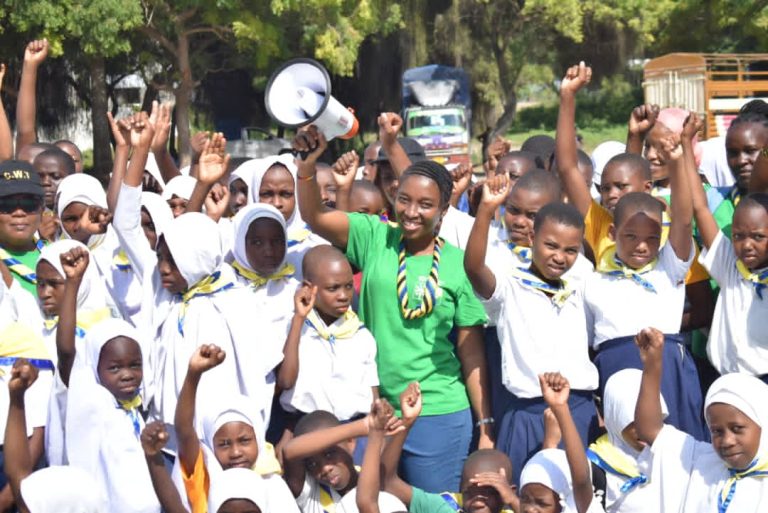 Environmental degradation is one of the major challenges in our societies and one of the effects is climate change which affects girls and women to a great extent. Jasmine Mkoka who is a YESS participant 2020 from Tanzania to Zambia, is eager to see the community get an education on environmental issues. Through her Back to my root campaign, she has been able to reach out to her community and provided them with education about environmental conservation.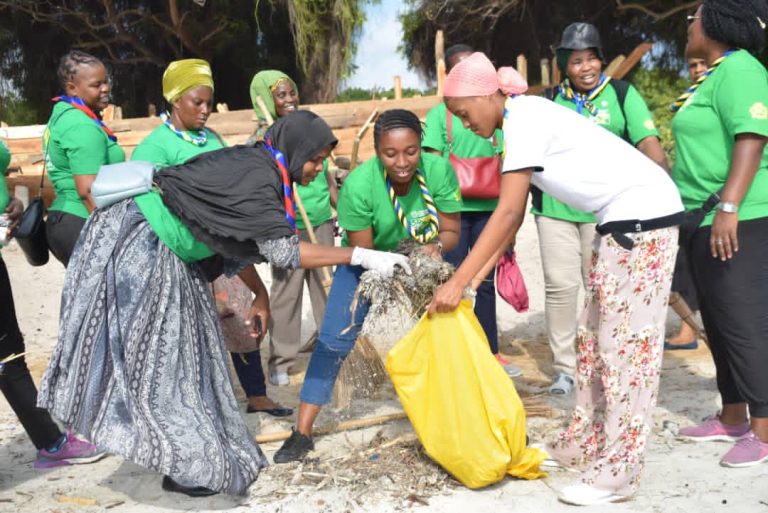 Jasmin's back to my root campaign theme was  "It's our time to save living organisms", the campaign was held in Coastal Region where she organized a beach clean-up with Girl guides from Bagamoyo. Her Beach Clean-up event was attended by a wide range of stakeholders including government officials, environmentalists, and community leaders. Ms. Jasmine also said that though Climate change affects women to a greater extent doesn't mean that men are not, so both of them are equally responsible for environmental protection and they should take action against the effects that are brought by climate change.