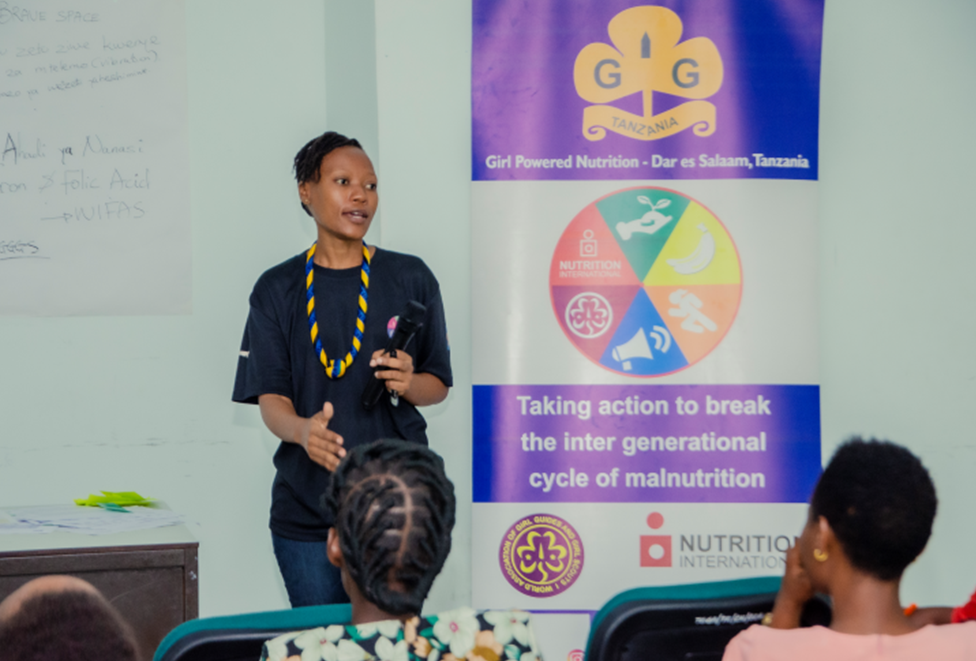 Our girl powered nutrition programme support girls to learn, take action and speak out. Good nutrition helps every girl to thrive and reach her full potential.
Malnutrition is both a cause and effect of gender inequality. Girls' nutrition is seen as less of a priority than boys' nutrition. In addition to girls learning about nutrition, they are also supported to tackle the root causes of malnutrition. They  do so through completion of the 'Activity Pack' but also the 'Girl Powered Change Pack' which helps individuals of any age to plan a bigger project of their own.
GIRL POWERED NUTRITION MESSAGES
22-year-old Valentine is a Tanzanian girl guide who uses her digital media skills to bring awareness to the importance of good nutrition to her community and local Minister of Parliament. Valentine is very passionate about nutrition and helping other girls develop skills    and confidence to fight for their rights. "Malnutrition and violation of girls' rights are some of the persistent challenges in Tanzania, and I am committed to doing what I can to address them," Said Valentine.
As the regional youth chairperson for the Tanga region and Girl Powered Nutrition advocacy champion. She uses the internet and social media to find information and get to know how other people across the world tackle nutrition challenges.
"I want to end iron deficiency anemia among girls and young women. We need to make sure that girls are prioritized by the government and we need to tackle food taboos in our societies"                                              Valentine Muhindo- Tanga Regional Youth Chairperson
In Shinyanga girls and young women at the age of adolescence develop iron-deficiency anemia because of heavy bleeding during their period, there is a high need to provide correct nutrition information to families and societies with the aim of improving healthy eating habits among girls and young women. I would like to extend my gratitude to Nutrition International and Tanzania Girl Guides Association for bringing the Girl Powered Nutrition to our region we believe that; the provision of correct nutrition information to families and societies' in Shinyanga will help to reduce the effects that are brought by poor eating habit and eradicate culture and taboos that tend to make girls and young women's nutrition poor.
Christina Nyengo- Guider Shinyanga Region